SAFETY RELATED TO THE OIL / GAS INDUSTRIES
Oil and Gas Safety
Jenbul are specialists in Oil and Gas Safety
Within JENBUL expertise is available covering site safety practices specifically related to flammable feedstocks and particularly relating to operator response and ship to shore interfaces.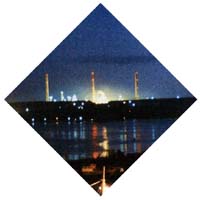 In the oil and gas industries loss prevention tends to concentrate on the prevention of fire and explosions, the control of situations involving these scenarios, and the avoidance of bulk toxic releases.
JENBUL believes that the extent of ill-health caused or exacerbated by occupational exposure to toxic chemicals is also paramount for inclusion within any safety survey.
Consideration is therefore given to important factors such as elapsed time before detection of exposure and adequate warning, coupled with the correct human response in terms of personal protection equipment and/or evacuation.
JENBUL also provides experienced personnel who are available to deal with facets of the management of terminals and potential problems when handling liquefied gases, as well as the hazards and emergency procedures associated with spillages at the terminals and during transport.
email: [email protected]